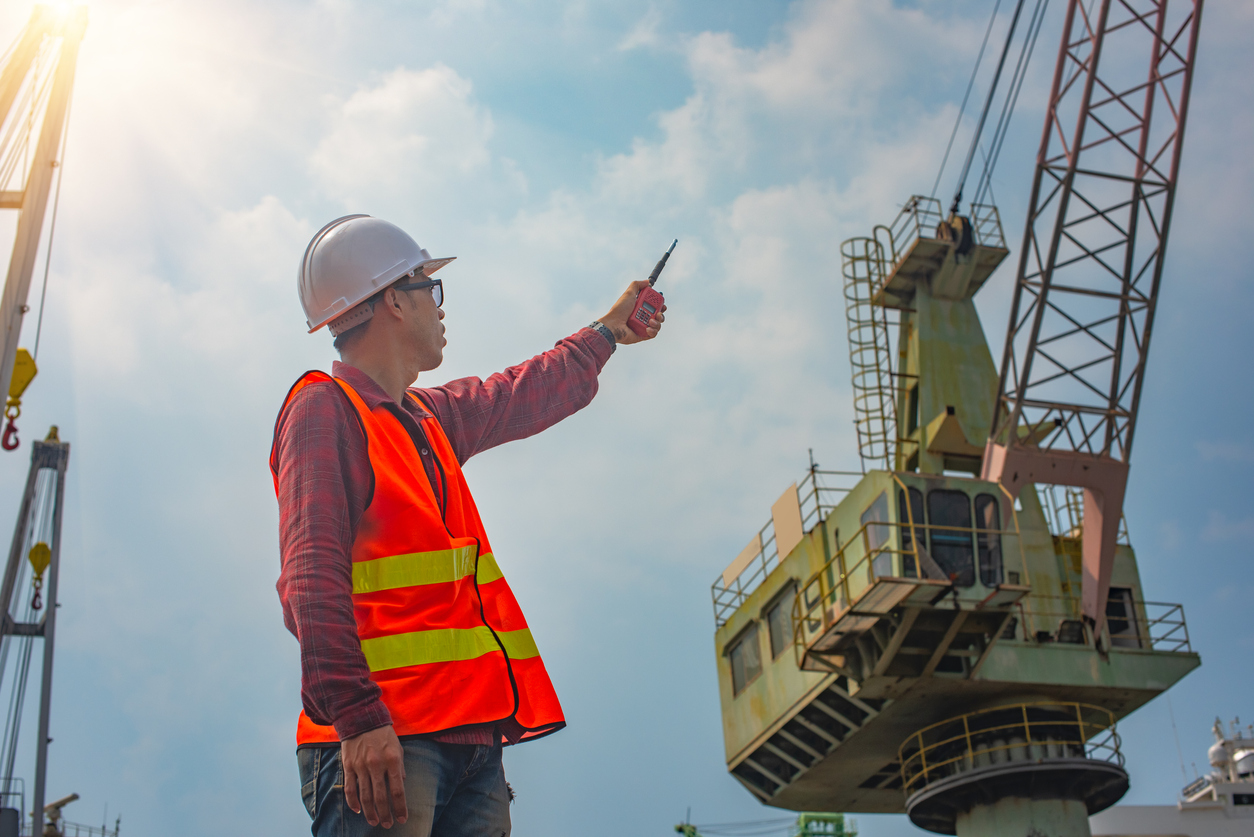 When it comes to construction, safety is a number-one priority. This is especially the case when lifting heavy objects using cranes or heavy equipment. Having a qualified rigger and signalperson on a construction site is a requirement to ensure the safety of everyone involved. Do not underestimate the importance of proper rigger and signal training.
The Role and Responsibilities of a Rigger
Riggers are responsible for using ropes, pulleys, and other equipment like heavy chains, cables, and straps to secure heavy loads, which are then meant to be transported using a crane. Riggers have the knowledge required when it comes to knowing which hitches to tie and how much weight different cranes can support. They have a great understanding of a load's center of gravity, which is required to ensure proper balance, stability, and mobility of the load at all times.
To someone unfamiliar with a construction site, the crane operator may seem like the person with the most responsibility. But a rigger has just as much responsibility, if not more, as they are the ones responsible for properly rigging the load. Without an experienced rigger in place and a properly rigged load, a worksite can quickly become a danger zone.
The Role and Responsibilities of a Signalperson
Once a rigger has rigged a load appropriately, it is a signalperson's duty to safely guide the crane operator in transporting the load from its rigging location to where it needs to go. The signalperson is a crane operator's eyes and ears on the ground and is responsible for ensuring that all crane activities are performed safely. This is done by using specific hand signals that are understood by both the signalperson and the crane operator.
How to Become a Certified Rigger and Signalperson
To become a certified rigger and signalperson, an individual must complete an accredited training program where they learn the roles and responsibilities of the position, the proper knowledge of hand signals and voice-activated and audible signals, crane operations and fundamentals of rigging, load handling, and other environmental factors. Individuals must pass both a written and practical exam offered by a National Commission for the Certification of Crane Operators (NCCCO) accredited organization. A rigger and signalperson certification is documentation demonstrating that someone has proven their ability to complete the tasks required of a qualified rigger and signalperson.
Performance Training Solutions' NCCCO Rigger & Signalperson Certification Course
PTS provides a five-day NCCCO Rigger & Signalperson certification program. The program prepares candidates for both the NCCCO written and practical exams administered at the conclusion of the training program. The candidate must pass both the written and practical exams to earn the NCCCO five-year Rigger & Signalperson certification.
Performance Training Solutions' Mobile Crane Operations Course
At Performance Training Solutions, we offer a three-week, 120-clock-hour program that provides you with the fundamental knowledge and skills necessary to obtain entry-level employment as an NCCCO certified crane operator. This certification program includes both the Mobile Hydraulic Telescopic Boom Swing-Cab and Telescopic Boom Fixed-Cab cranes.
The program includes a combination of classroom and in-the-seat instruction. Approximately half of the instruction will take place in the classroom. Topics covered include orientation to the trade, basic principles of cranes, crane safety, operating a crane, preventative maintenance, wire rope, and basic rigging practices. The other half of training includes in-the-seat operation of a mobile hydraulic telescopic boom swing-cab and telescopic boom fixed-cab crane. Learn more about our Mobile Crane Operations course here.
Completion of the required exams will result in a five-year Mobile Crane Operator Certification from the NCCCO National Commission for the Certification of Crane Operators.
Importance of Safety When Operating Heavy Equipment
A construction site can be very dangerous for inexperienced individuals who aren't properly trained and educated on knowing how to behave around heavy equipment and cranes. One false move can quickly lead to considerable injury or even death. This is why it's so important to stress safety when operating heavy equipment and to abide by OSHA crane regulations at all times.
OSHA says that signalperson needs to know the types of signals used at the worksite, can competently use those signals, know the crane equipment, its limitations, and all the dynamics involved in crane and boom movement and lifting, can demonstrate knowledge through oral, written, and practical testing, and is evaluated by a third-party or in-house qualified evaluator.
Get Started On the Path to a New Career with PTS
Performance Training Solutions is a heavy equipment operator school located in Columbus, Ohio. As one of the top training schools in the country, we assist those who wish to pursue a career as a heavy equipment operator or crane operator. Our team of experienced trainers and admissions and career representatives are committed to helping our students succeed in the long term.
If you're interested in taking our Mobile Crane Operations course, taking our rigger and signal training, or taking any of our additional courses, check out what you can expect. If you'd like to learn more about Performance Training Solutions, feel free to contact us today. Don't forget to ask us how you can earn $500 off your tuition by scheduling a tour.
Note: The $500 scholarship does not apply to the NCCCO Rigger & Signalperson Course.