If you're about to leave the military or recently transitioned back into civilian life, heavy machinery training can set you on a career path quickly.
Approximately 200,000 service members re-engage as civilians every year, and it can be an intimidating process. But the heavy equipment operating industry is an option worthy of consideration given its consistent and stable nature, excellent starting salaries, and ease of access.
Let's dive into how heavy machinery training can help veterans with their transition plans, provide vocational education opportunities, and pave the way to exceptional careers for post-military personnel.
Want to know more about PTS course offerings? Get the information you need here.
Find Sustaining Work, Quickly
One of the key concepts or platforms of any military transition plan is deciding and focusing on a career path. You've spent years as a valuable part of a team, developing skills and honing strengths, to be a part of something larger than yourself. Naturally, you'll need an avenue to apply those attributes moving forward, and the sooner you can identify what comes next, the smoother your transitional experience will be. Heavy machinery training — learning to operate heavy equipment like excavators and cranes — is an essential part of two of the top five industries for returning veterans.
Heavy equipment operator training provides a slew of established benefits for veterans. First, accessing the training programs is easy, with few qualifiers to bar entry into such learning programs and few hoops to jump through. Second, the training can be completed quickly; for instance, at Performance Training Solutions, each of the three heavy equipment training courses takes no more than three weeks (120 hours) to complete. Third, heavy machinery operators will be in line for good, family-supporting wages — even as first-year workers in the field.
Vocational programs like heavy machinery training have been a proven part of established transition plans for post-military personnel for many years. Such programs have no higher education requirements and offer the chance to gain additional skills or further develop knowledge in a certain field. Vocational programs or specific job-training initiatives also give veterans applicable real-life experience and put them in close contact with experts in their chosen field.
Transitional planning, such as lining up heavy equipment training, will also aid veterans as they put down roots outside the armed services. By figuring out what you want to do next, developing the needed social and language skills, and then connecting with contacts inside your chosen vocation, you'll take steps to build a new network you can rely on and interact with.
How does PTS serve veterans? Learn more about our 90% job placement rate.
PTS Backs Veterans and Provides Heavy Machinery Training
Veterans may take advantage of the accelerated training programs at Performance Training Solutions to embark on careers and transitions powered by heavy equipment operator employment. As a Military Friendly® school for 2021-22, PTS is committed to helping veteran students navigate various government programs to help them receive their entitled educational benefits and give them the best chance to succeed.
You can use your earned benefits to pay for training. The Post 9/11 GI Bill® is the latest generation educational benefit for service members and veterans. It includes payment of tuition and fees, a monthly housing allowance, and a stipend for textbooks and supplies for up to 36 months. The Veteran Affairs' Vocational Readiness and Employment (VR&E) Program Chapter 31 provides similar educational assistance. VR&E helps veterans with service-connected disabilities and an employment handicap prepare for, obtain, and maintain a job. It also can be used by entitled transitioning service members.
PTS provides several course options — including two heavy equipment operator and one crane operator course — with short class schedules. Each course takes just three weeks (120 hours) to complete, and new classes begin monthly. While the course sizes are deliberately small to maximize the learning potential for the enrollees, the rapid turnaround means you won't be shut out of a course for long (if at all).
It all adds up to an experience many will find more beneficial and digestible than the traditional collegiate route in furthering their career aspirations. Instead of two or four years of additional education and tens of thousands of dollars in expense, heavy machinery training through PTS can help veterans get acclimated in a fraction of the time and money.
If you're interested in the heavy equipment and/or mobile crane operator training that PTS provides, contact us today to schedule a free tour at our Columbus, Ohio facility. See our equipment, meet our staff, and get a feel for the entire program. With the completion of the tour, you'll be eligible for a $500 tuition reduction scholarship.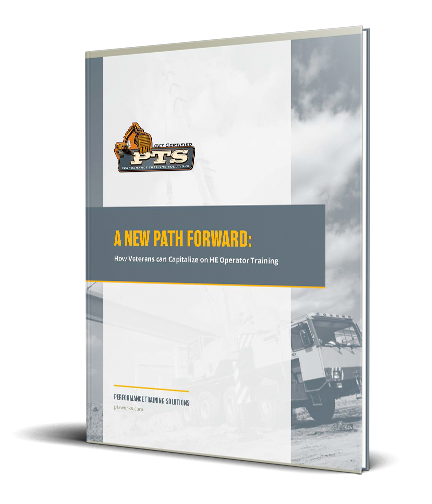 YOU'VE SERVED YOUR COUNTRY — WHAT'S NEXT?
In our free, no-strings-attached ebook — A New Path Forward — examine the positive aspects of heavy equipment operator training for veterans and why Performance Training Solutions is the right choice to empower you in a new career.