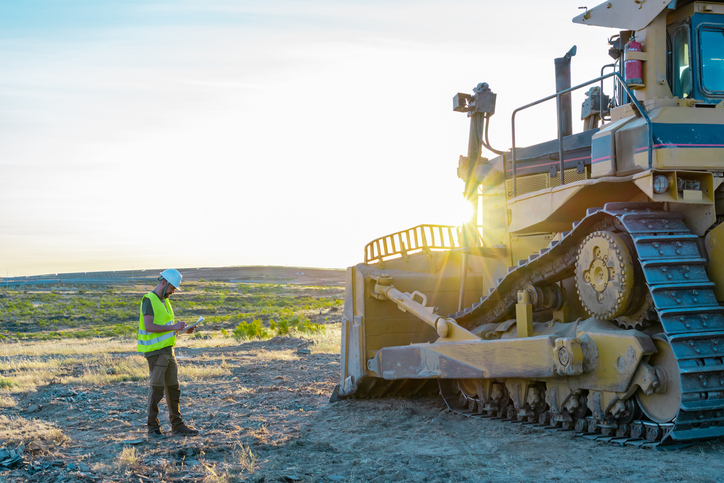 Operating heavy equipment offers a great career path, one which provides good job security, family-supporting salaries, growth opportunities, and benefits. Workers in this field use their skill and experience to control the machinery that paves roads, clears earth and rubble, tackles large agricultural projects, constructs buildings, and more. Figuring out how to become a heavy equipment operator can open the door to a brighter, more rewarding working career.
Heavy equipment operators tap into their skill and experience to control machinery like cranes, bulldozers, excavators, and a host of other machines to provide the muscle for projects across a wide range of industries. It is a rewarding profession. I you identify as someone who knows they need to do something but are not sure what or wants a brighter working career, knowing how to become a heavy equipment operator can open the door to some great opportunities.
The "Heavy Equipment Operator" Occupation Is Gaining Popularity
Being a heavy equipment operator remains an in-demand occupation with robust starting salaries. Per the Bureau of Labor Statistics, the median annual wage for construction equipment operators was $48,290 in May 2021. This comes as a significant compensatory package, given the easily reached educational and training requirements. You can become a heavy equipment operator after earning a high school diploma or equivalent. Alternatively, you can do an apprenticeship or attend vocational schools.
Among the many benefits of their chosen field is also the choice of specializing in several heavy equipment types, industries, or specific tasks or jobs. Used to drill, pave, compact, lift, drill, dig, and much more, heavy equipment comes in wide varieties with different machinery makeups, tools, areas of focus, and strengths.
For example, while excavators dig through the earth, demolish old buildings, grind down trees, mine, cut asphalt, backhoes perform small-scale demolitions, light transportation of building materials, power building equipment, dig holes, landscaping, break up asphalt, and so on. Other equipment options include bulldozers, cranes, excavators, and many more.
Let us walk you step-by-step through the process of how to become a heavy equipment operator and demonstrate how anyone looking for a career change can consider this versatile career path.
Want a closer look? Schedule a tour of our Central Ohio facility and earn a $500 tuition discount.
Step-by-Step Guidance on How to Become a Heavy Equipment Operator
The requirements to become a heavy equipment operator aren't prohibitive for most people.
To be eligible for heavy machinery training, you must be at least 18 years of age. Physically, good hand-eye (and foot) coordination is vital to operate various levers, pedals, steering mechanisms, and more. The ability to react quickly to changing stimuli and the stamina to work full shifts are also beneficial.
The career path has a baseline education requirement of a high school diploma or the General Educational Development (GED).
You must show proficiency in the safe operation of the equipment you apply to work on and in following safety procedures used on job sites. Both the National Center for Construction Education and Research (NCCER) and National Commission for the Certification of Crane Operators (NCCCO) offer credentials and the certification once the requisite education with an accredited institution is completed.
There are many options to choose from, but PTS offers fully compliant three-week courses that leave graduates ready to gain the required credentials. Anyone seeking training to operate a crane weighing 2,000 pounds or more must first be CERTIFIED by an accredited crane operator testing organization or qualified through an audited employer program. At PTS, once you complete your crane operator program, you will face NCCCO examinations. After passing those exams, you will receive formal certification.
When learning to operate wheel loaders, backhoes, bulldozers, excavators, and more, however, students will NOT receive certification (or the opportunity to test for it) at the end of their training. Instead, they will receive a CREDENTIAL from the NCCER. Becoming accredited with NCCER shows you have the knowledge and proficiency in operating various equipment safely on a job site.
A commercial driver's license (CDL) isn't mandatory for heavy machinery operations. But in some cases, it might be required by law or by individual employers. In construction, heavy equipment is often towed on trailers – an equipment operator with a CDL can transport and operate their machinery, which may give you hiring preference. The requirements to earn a CDL vary by state, so you must look up the process where you live.
Getting reacquainted with a piece of equipment prior to going to a job interview can often be helpful. Refresh your training when needed and augment your job-seeking skills. In the event of a job change or the need to shake the rust off, PTS will gladly provide a brief refresher on any piece of equipment on which you have been trained and credentialed.
Learn How to Become a Heavy Equipment Operator at PTS
PTS is a heavy equipment and mobile crane operator school located in Central Ohio, roughly 30 minutes east of Columbus. Recognizing a need for standardized training programs to fill in-demand operator jobs created by the burgeoning construction and energy development industries within Ohio and nearby states, PTS was launched in June of 2011 to help fill the skills gap.
We serve:
Businesses
Individuals
Veterans
Unemployed Workers
Disabled Workers
Recent High School Graduates
With the combination of small class sizes for hands-on learners, classroom activities followed by in-the-seat field exercises, PTS students are well prepared and positioned for good entry-level employment opportunities. Our 90% placement rate is a testament to this fact.
Courses we offer:
We offer a pair of three-week, 120-hour courses that provide the fundamental knowledge and skills necessary to obtain entry-level employment as an NCCER credentialed operator, and an additional crane operator training class for NCCCO certification.
Heavy Equipment Operator 1 is an entry-level course and covers the knowledge and skills required to obtain employment as a skid steer, wheel loader, compactor, backhoe, or articulated off-road dump truck operator.
Heavy Equipment Operator 2 follows up on that initial training and opens the door to employment as an operator for bulldozers, scrapers, excavators, and motor graders.
Mobile Crane Operations is a three-week, 120-hour program providing fundamental knowledge and skills to obtain entry-level employment as an NCCCO-certified crane operator, including both the Mobile Hydraulic Telescopic Boom Swing-Cab and Telescopic Boom Fixed-Cab cranes.
Connect with PTS today to learn how to become a heavy equipment operator and take a tour of our facility for a $500 tuition discount.