It can be a daunting, even overwhelming, task, but managing a military transition to civilian life can go much smoother with a bit of planning. Approximately 200,000 service members leave the military and re-engage life as civilians every year. It's a process that can be challenging for many.
Transitioning is less about leaving the military and more about re-integrating back into society at large. The military not only provides a strong sense of purpose, but also provides comfort and security in the shared experience of the connection forged among units, squads, and platoons. Returning to civilian life can feel like landing on an alien planet, or in a foreign country, with a different language and social structure. The anxiety that often comes with making the transition has as much to do with that sense of belonging as it does with the desire to find a new line of work.
So, what's the way to execute the military transition to civilian life? Read on for tips and advice on how to navigate the process.
5 Tips to Aid a Military Transition to Civilian Life
TAP into a key program — The Transition Assistance Program (TAP) provides information, resources, and tools to service members and their families to prepare for the transition. Service members can begin TAP one year before separation, or two years prior to retirement. About 90% of eligible military personnel engaged TAP at one of the more than 300 centers at military installations worldwide to receive counseling, information about benefits and education programs, and more. This program can arm you with the knowledge of what tools are available.
Explore tools for self-assessment — No matter your role in the military, or the branch of service, you developed skills and knowledge that will help you in the next stage of your journey. Learning how to catalog these skills, and how they can emerge as transferable skills, can offer you a framework of what to pursue as a civilian. Learning to credential your military experience will impress potential future employers and give you insight into what might fit you best.
Learn the language — Adapting to civilian life means adopting the right body language and speech, especially when working in a new and different environment. Rather than use military time, use civilian time — 2 p.m. as opposed to 1400 hours. Try to wean away from military jargon when you can. Little steps like these will help lower the distinctions between you and non-military co-workers, aiding in your re-integration.
Don't dismiss your strengths — While trying to adapt to the more civilian-like language, don't forget to showcase the attributes associated with military veterans in the workforce. Veterans are often known for their individual accountability, natural leadership, and precise communication skills. The ability to handle stressful situations, poise, and ingenuity are other traits frequently associated with veterans that will be welcome in nearly every workplace.
Meet and Greet — The best way to get back out into the world and the workforce is to simply go and do it. Network — with potential employers, in different social settings, with family and friends — whenever possible. Find veterans who have successfully transitioned into a new career or jobs and learn what they have to offer. Part of working your way back into civilian life is networking, don't skip it.
What is classified as 'heavy' equipment? Learn about the basics here.
PTS Can Help You Find Sustaining Work
Part of any military transition to civilian life plan will involve finding work, and a long-term career, that can support yourself and your family. Performance Training Solutions has a strong background in supporting veterans as they navigate back into the workforce and believes in the opportunity that heavy equipment and crane operator training can provide.
Such operators are essential parts of two of the top five industries for returning veterans. Heavy equipment operation is a vital component of both the construction and oil, gas, and utility sectors proven to be good landing places for veterans transitioning back to civilian life.
Vocational training has long welcomed veterans following their service. It can jump-start working prospects in an industry that has remained consistently in demand, provides solid wages even with low experience, and can be entered quickly with minimal investments of time and money.
As a Military Friendly® School, PTS has committed to back veteran students as they pursue heavy machinery operator training. We'll work with you to access the benefits you're entitled to that will help reduce the cost of such vocational training. The Post 9/11 GI Bill® is an educational benefit for the latest generation of service members and veterans. It includes payment of tuition and fees, a monthly housing allowance, and a stipend for textbooks and supplies for up to 36 months.
Also, the Veteran Affairs' Vocational Readiness and Employment (VR&E) Program Chapter 31 provides similar assistance. The VR&E program assists entitled veterans with service-connected disabilities and an employment handicap to prepare for, obtain, and maintain a job; it also serves entitled transitioning service members.
How does PTS serve veterans? Learn more about our 90% job placement rate here.
Work With PTS to Aid Your Military Transition
Performance Training Solutions is regarded as the best heavy equipment and crane operator school in the Midwest. Based just outside of Columbus, Ohio, we've made it our mission to serve and help a variety of people from many walks of life pursue a more rewarding career with our hands-on instructional training designed to help you get to work quickly.
Schedule a tour of our facility, and earn a $500 Tuition Reduction Scholarship in the process, to get a first-hand look at the type of environment and experience we can provide for veterans looking to embark on the next stage of their professional careers.
Contact PTS today to learn more about all of our heavy equipment operator courses and start the training that will help you transition into a successful post-military career.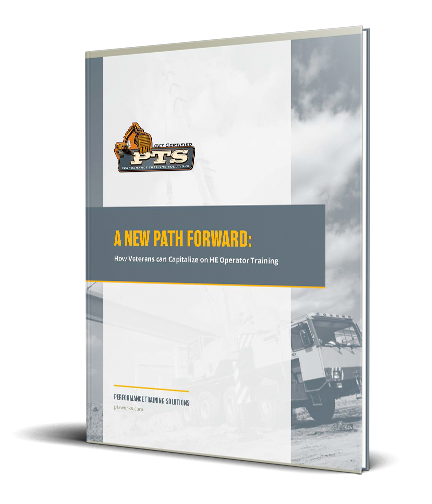 YOU'VE SERVED YOUR COUNTRY — WHAT'S NEXT?
In our free, no-strings-attached ebook — A New Path Forward — examine the positive aspects of heavy equipment operator training for veterans and why Performance Training Solutions is the right choice to empower you in a new career.