Are You Transitioning from Your Service Career to Civilian Life?
If you're coming to the end of your military career, the military will likely already be communicating with you about the transition from your service life to civilian life. Whether you're approaching your last year in service or are only a few months away from separation, it's time to start considering your future. If you already have a degree, you might be considering putting that degree to use in a related field. But if not, you might be wondering about jobs for military veterans without degrees.
A Stada-Gallup Education Consumer Survey reported that 42% of veterans already have a degree, 33% hold a certificate or certification, and 25% don't have a degree. If you fall into the 25% or 33% categories, it could be more difficult for you to obtain a position that requires a two- or four-year college degree.
While some companies give preference to veterans applying for positions, this isn't always the case. And when you consider that around 200,000 servicemembers transition to civilian life every year, the competition for certain jobs with high incomes gets even more challenging.
At PTS, we believe that you deserve a simple transition back to civilian working life. While the Armed Forces assist veterans in obtaining college degrees, you might not have been able to take advantage of that due to your responsibilities, your deployment location, and so on. Fortunately, there are still jobs for military veterans without degrees in heavy equipment and crane operation. These jobs are available in multiple industries ranging from government to construction.
Why Heavy Equipment and Crane Operation is the Ideal Post-Service Route
Heavy equipment and crane operators are extremely in demand. The U.S. Bureau of Labor Statistics estimated that jobs for heavy equipment operators would grow by 10 percent between 2018 and 2028. That rate is double the average rate compared to all other occupations. And when it comes to compensation, you can expect a strong income early in your career — the median heavy equipment operator salary in the United States is $65,538. Crane operators earn strong salaries as well, with the median salary for a crane operator in the U.S. standing at around $56,700 and going all the way up to $99,700 for those in the top 20%. Ultimately, what you earn will depend on your experience and your education. The latter is where we come in.
PTS is a heavy equipment and crane operator training school conveniently located just outside of Columbus, Ohio. Founded in 2011, we've helped thousands of veterans and civilians get the training they need to obtain their heavy equipment certifications — allowing them to gain meaningful employment in multiple industries around the country. But the most beneficial aspect of our school is the speed at which our students can complete their certification program.
All of our courses are three-week, 120-clock-hour programs that are held on-site at our training facility. That's right — in only three short weeks, you can be fully trained and certified to operate a variety of heavy equipment such as mobile boom cranes, off-road dump trucks, graders, skid steers, backhoes, and more. Examples of certifications received include:
NCCER — National Center for Construction Education and Research
NCCCO — National Commission for the Certification of Crane Operators
And when it comes to finding jobs for military veterans without degrees, this is a significant advantage. The last thing you need is to have to spend months or even years working toward obtaining or finishing a college degree when you could be working in a matter of weeks in a new field that's high in demand, high-paying, and extremely stable.
The cost for heavy equipment or crane operator training is far more favorable than the cost of college tuition. Our training programs start at around $7,000 (learn more about our tuition here). What better way to use and preserve your hard-earned resources than by obtaining a meaningful certification that will lead to long-term, rewarding employment as opposed to spending tens of thousands on college tuition?
Even if you were to obtain all three of our primary certifications of heavy equipment operator training I and II and mobile crane operator training, your total tuition cost would be far less than the average tuition cost at a private university. It would likely even be less than the annual cost of tuition for many public universities!
Here's the Best Part: Your VA Benefits Can Help with Tuition
To ensure you're able to get the training you need while also taking advantage of the benefits you've earned, PTS accepts the Post 9/11 GI Bill® and the VA's Vocational Readiness and Employment (VR&E) Program Chapter 31 benefits. We understand it can be challenging to transition from service life to civilian life, which is why we'll work with you to help you put these benefits to use for your training. Our admissions team will walk you through the process, explaining step-by-step what documentation is needed, where to get it, and what happens next.
We also accept various grants from state agencies and educational institutions, further extending your ability to get the training you need for an enjoyable career. And if you sign up for an on-site school tour, you'll get a $500 tuition reduction scholarship — making your training even more affordable.
Our Support Never Ends
While we provide the best heavy equipment and crane operator training in the country, we know that you might need a refresher on a specific piece of equipment from time to time. You'll be welcome to come back to our facility for refresher training on our equipment whenever necessary.
Our team is also available to help you find meaningful employment at any time after graduation. If you're looking for a new job, we'd be happy to help you find some new opportunities and point you in the right direction. Just reach out to us and let us know what you need.
As a 2021-2022 Military Friendly® School, we're graded and evaluated each year on a variety of criteria pertaining to veterans. We're proud to have earned this designation year after year and to have supported so many veterans from different branches of the Armed Forces in finding jobs for military veterans without degrees.
If you're ready to start your new post-service career, contact us or schedule a tour of our facility today.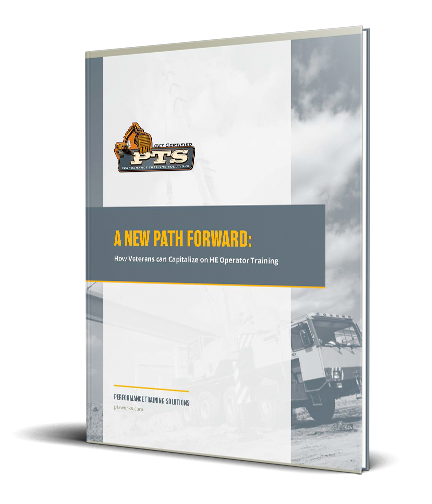 YOU'VE SERVED YOUR COUNTRY — WHAT'S NEXT?
In our free, no-strings-attached ebook — A New Path Forward — examine the positive aspects of heavy equipment operator training for veterans and why Performance Training Solutions is the right choice to empower you in a new career.