One critical tool for helping military personal transition back into civilian life is vocational training for veterans. Such training, which includes many varied avenues and industries such as heavy equipment operator instruction, offers direction and focus for individuals facing drastic life changes as a result of the end of their military service.
Let's examine how, and why, vocational training can be a needed path forward for veterans who may be searching for the best post-military careers available to them after completing their Military Service Obligations (MSO).
Trade School (or Vocational) Training is a Proven Option for Vets
Vocational training has been long established as a suitable career-starting track for veterans following the conclusion of their service, and with good reason. According to a 2017 study from the National Center for Science and Engineering Statistics, nearly half of all veterans (44%) will pursue either an associate's degree or vocational certification after ending their military service.
Pursuing such educational opportunities has traditionally helped veterans initialize their new working careers. Data from the U.S. Department of Veteran Affairs (VA) predicts that veterans who attend a trade school or achieve vocational training will have a job growth rate of more than 14% through at least 2024.
Further information from the VA indicates that most former military personnel will pursue, and complete, their additional education and training after their service before their earned benefits expire. Veterans — typically motivated and focused individuals — use these quick-access paths to future work and earning to great benefit.
How does PTS serve veterans? Learn more about our 90% job placement rate here.
How Vocational Training for Veterans Helps
The specifics of vocational training appeal to several key aspects for veterans.
Perhaps the most important benefit of vocational training is the overall skill set offered. Such programs allow veterans to gain the skills, and the practical real-life applicable experience, to garner the confidence and contacts needed to secure employment. Moreso, employment is usually found in specialized, focused fields or industries that can quickly sustain entry-level salaries.
The crux of trade school or vocational training is built on learning with hands-on experience. Associate degree, and vocational training, programs aren't typically tied to any extensive prior or pre-existing educational experience. Therefore, the programs can lead to solid, dependable work options for veterans who may not have the degrees needed for other pursuits.
The pace of such programs can help veterans set up a quick time table for joining the workforce as a civilian. Instead of the years, and substantial cost spent on earning a four-year degree, vets can get the instruction needed to secure family-supporting salaries in a fraction of the time. Rapid employment opportunities are essential for veterans looking to begin the next stage of their lives.
Vocational training often puts veterans in the hands of experts in their chosen fields. Learning won't be centered around abstract concepts or protracted hours in a classroom. Instead, vets will be able to learn — in the field, on the machinery used, or with the technology needed — from those who know the matter the best and can present essential real-world knowledge on how to implement their new skills as an employee.
Want to know more about PTS course offerings? Get the information you need here.
Veterans Have Access to Funding Solutions
Pursuing vocational training makes even more sense for veterans considering they have additional options to help offset the upfront costs of investing in such programs.
Most veterans will have access to one or both of the following benefit programs that can defray vocational training costs. The Post 9/11 GI Bill® is an educational benefit for the latest generation of service members and veterans. It includes payment of tuition and fees, a monthly housing allowance, and a stipend for textbooks and supplies for up to 36 months.
Also, the Veteran Affairs' Vocational Readiness and Employment (VR&E) Program Chapter 31 provides similar assistance. The VR&E program assists entitled veterans with service-connected disabilities and an employment handicap to prepare for, obtain, and maintain a job; it also serves entitled transitioning service members.
Navigating the systems to gain these benefits can at times be difficult, time-consuming, and confusing. Performance Training Solutions, which has secured the Military Friendly® School designation for 2021-22, is committed to helping students through these various government programs — and others — to help you receive the benefits you deserve.
Work With PTS for Vocational Heavy Equipment Training
Performance Training Solutions is regarded as the best heavy equipment and crane operator school in the Midwest. Based just outside of Columbus, Ohio, we've made it our mission to serve and help a variety of people from many walks of life pursue a more rewarding career with our hands-on instructional training designed to help you get to work quickly.
Schedule a tour of our facility, and earn a $500 Tuition Reduction Scholarship in the process, to get a first-hand look at the type of environment and experience we can provide for veterans looking to embark on the next stage of their professional careers.
Contact PTS today to learn more about all of our heavy equipment operator courses and start the vocational training that will help you seamlessly transition into a successful post-military career.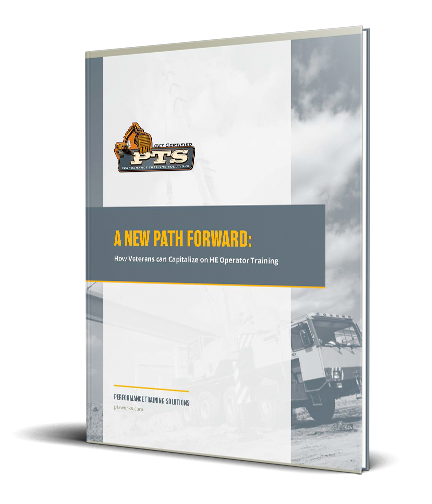 YOU'VE SERVED YOUR COUNTRY — WHAT'S NEXT?
In our free, no-strings-attached ebook — A New Path Forward — examine the positive aspects of heavy equipment operator training for veterans and why Performance Training Solutions is the right choice to empower you in a new career.