Equipment Operators Are High in Demand — This is a Great Opportunity for You as a Veteran
If you're a veteran, you deserve the opportunity to return to the civilian workforce with an in-demand job you enjoy and a high income that can support you and your family. We at PTS are extremely grateful for your service to our country, and we're committed to doing all that we can to prepare you for a new career path — before you enter it and for years to come (more on that shortly). But first, let's consider where you're at now in your search for post-military jobs.
Already Have a College Degree?
If you already obtained a degree before going into the service or during that time, you might be inclined to put it to work in an applicable industry. Understand, however, that at a high level, the job market is in a unique state. With the recent presidential election and its new policies starting to come into effect, some markets — such as oil, gas, and fracking — are likely to see layoffs. And because other industries are waiting to see what the future holds, new hiring may be put on hold (to say nothing of the pandemic and the ongoing uncertainty it brings).
Don't Have a College Degree?
If you don't have a college degree, you may have an even tougher time entering the job market. While some industries and jobs don't require a degree, the competition for those positions will be tight. If you've been considering going back to school, you'd be able to save some money doing so virtually — but the cost of college is still significant. And it will still likely take more than a year to obtain an associate's degree on an accelerated timeline (and more for a bachelor's).
Fortunately, heavy equipment and crane operators will always be in demand. The U.S. Bureau of Labor Statistics estimated that jobs for heavy equipment operators would grow by at least four percent between 2019 and 2029 — a rate equal to the average compared to all other occupations.
Why Post-Military Jobs for Equipment Operators Make Sense
The last thing you want is to be spending tens of thousands of dollars (out of your earnings or by going into debt) and wasting years going back to school when there are new career opportunities available to you right now. Let's take a look at several ways that post-military jobs for equipment operators might be the right approach for you.
Training Only Takes Three Weeks
That's right — all of our courses are 3-week, 120-clock-hour programs consisting of both classroom education and in-the-seat training on our equipment. In fact, more than 70% of your training time will consist of operating different types of heavy equipment or cranes at our facility. Compare that to a 2-year or 4-year college program, and the difference is immediately clear. Even if you already have your degree, you can be on your way to a new, in-demand, and high-paying career in a matter of weeks.
Learn more about what to expect with our training programs.
Heavy Equipment Operator Salaries are Strong
As of December 28, 2020, the median heavy equipment operator salary was $65,417, with the low end coming in at $54,691 and compensation as high as $74,224. While compensation for new graduates will trend toward the lower end of this spectrum, it's nevertheless a strong starting point with significant opportunities for advancement and growth as you move forward in your career.
Keep in mind that the sooner you start, the sooner you'll be able to earn an income like this. If you were to go back to school, it could take you years to catch up to these ranges. And depending on your chosen field of study, your initial income might even be less.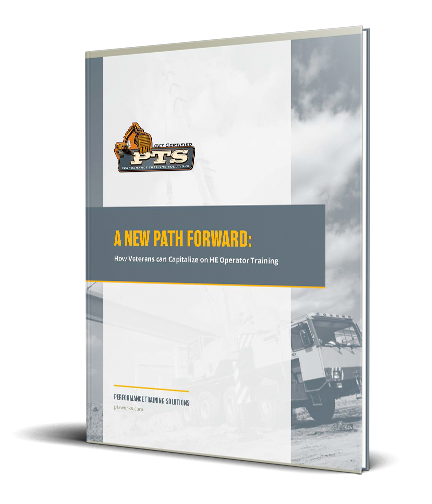 YOU'VE SERVED YOUR COUNTRY — WHAT'S NEXT?
In our free, no-strings-attached ebook — A New Path Forward — examine the positive aspects of heavy equipment operator training for veterans and why Performance Training Solutions is the right choice to empower you in a new career.
How We Make Post-Military Jobs for Equipment Operators Accessible
We're Experienced with Students from All Armed Forces Branches
We understand the challenges that veterans face when re-entering the job market. Whether you served in the Army, Marines, Air Force, or Navy, we're grateful for the time and sacrifices you've made through your service, and we'll do all that we can to prepare you for a meaningful career in heavy equipment operation.
We're a Designated 2020–2021 Military Friendly® School
The Military Friendly ratings program was started in 2003 as an advocacy vehicle to encourage civilian organizations to invest in programs to recruit, retain and advance veterans as employees, entrepreneurs and students. PTS proudly exceeds this organization's benchmarked standards in many areas.
See our listing on the Military Friendly site here.
We Accept Veteran-Specific Educational Funding Programs
PTS accepts the Post 9/11 GI Bill® and the VA's Vocational Readiness and Employment (VR&E) Program Chapter 31 benefits. Contact us today to learn more about these programs and how we can help you navigate the process.
We Know What It Takes to Help You Succeed
PTS has achieved a 90% graduate placement rate, which means our exceptional training has made our students highly appealing to companies looking for heavy equipment operators and crane operators. Furthermore, we stand behind every veteran that we train. We offer career assistance long after you've graduated to help you find new opportunities. You're even welcome to return to our facility for a refresher training on any equipment.
Explore our career assistance offerings here.
Now is the Time — and We're Here to Help
If you're a veteran exploring post-military jobs for equipment operators, we would be proud to work with you and welcome you to our training school. Schedule a tour with us today to learn more about our training programs, our facility, and what the training process looks like. Those who complete a tour will receive a $500 Tuition Reduction Scholarship to apply toward your tuition costs.