Multiple state and federal level programs are in place to assist with paying for vocational education.
Getting the needed education, skills, and experience to unlock a new career path can seem like a substantial hurdle for those looking to make a change. For those in the Buckeye State, however, numerous Ohio job training assistance programs are in place to aid the process.
These programs are essential for many individuals and can provide aid in pursuing training and education that cover a variety of potential fields and industries. A key qualifying factor for tuition assistance is that the occupation is "in demand". Both heavy equipment and mobile crane operators meet this "in demand" standard.
Heavy equipment operator training schools and programs seamlessly integrate with the goals of Ohio job training assistance programs. The purpose of such programs is to help individuals find meaningful employment, and heavy equipment operators provide key services in a number of critical industries along with many benefits for the individuals carrying out the work.
The list of requirements to begin training is within reach of most
Completing training is a matter of weeks, not the years you can expect in a traditional educational program
With a variety of equipment types and multiple areas of specialization, HE operators remain in constant demand and have many ways to develop their careers further
Once complete, training opens up jobs with strong salaries — even at the starting level
Today, we'll examine some of the job training programs available in the state of Ohio. Remember, however, that similar programs — particularly those generated at the federal level — are available across the U.S. Anyone looking to begin a new career should work with their own local and state agencies to find out the job training and tuition assistance programs available to them.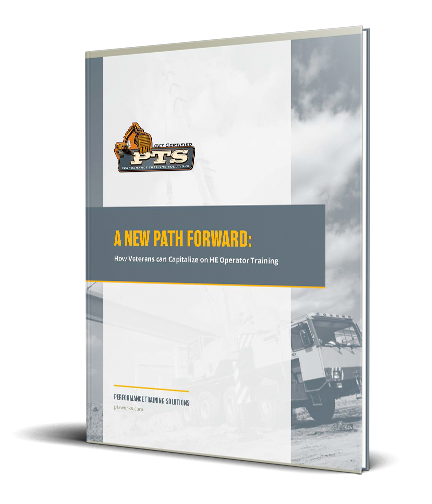 YOU'VE SERVED YOUR COUNTRY — WHAT'S NEXT?
In our free, no-strings-attached ebook — A New Path Forward — examine the positive aspects of heavy equipment operator training for veterans and why Performance Training Solutions is the right choice to empower you in a new career.
Ohio Job Training Assistance Programs Present Options
Tapping into state-level programs in Ohio that promote job training, individuals will be required to coordinate their efforts through and work with the Ohio Department of Jobs and Family Services. In addition, the Ohio Means Jobs website provides more information about how to learn career skills, meet the requirements of your government benefits, and find a job when you're ready. Becoming familiar with both is key to getting the most out of the job training programs available in Ohio.
Now, let's briefly examine some of the specific programs available.
WIOA
The Workforce Innovation and Opportunity Act (WIOA) is a federal program that provides funding to states to offer job training, education, and employment services for unemployed and underemployed workers and youth. WIOA, signed into law in 2014, seeks to increase employment retention and earnings of participants, and help them attain recognized post-secondary credentials. The program is offered to dislocated workers, adults over 18 who can work in the US and young adults (ages 14-24) who may be missing a high school diploma or dealing with other hardships.
CCMEP
The Comprehensive Case Management and Employment Program is designed to help low-income young adults (ages 14-24) get the training and support necessary to build a career path, find employment, and break the poverty cycle. Specifically tailored to each individual, CCMEP integrates funding from both the WIOA youth program and the Temporary Assistance for Needy Families program to offer more coordinated services. Every Ohio county has a designated lead agency responsible for managing CCMEP; to find your nearest OhioMeansJobs center click here.
TAA/TRA
The Trade Adjustment Assistance/Trade Reemployment Assistance programs provide services and income support to help those who have become unemployed — or had working hours reduced — as a result of shifts in production to foreign countries. This federal-level program has many potential benefits such as career counseling, job search allowances, relocation allowances, wage supplements for those 50 and older, and skills testing and training. You can find out much more about TAA/TRA, and how Ohio manages them, here.
IEP
An Individualized Education Program is developed for a child with an identified disability who is attending an elementary or secondary education institution. Performance Training Solutions has detailed IEPs before and how they can be used to line up educational or training programs following high school graduation. Contact PTS directly for details on specific funding opportunities involving IEPs, which typically draw funding from state and federal sources.
Vocational Rehabilitation
The Ohio Bureau of Vocational Rehabilitation (BVR) provides those with disabilities the services and support they need to help them secure and maintain employment. Assistance for disabilities ranging from physical, intellectual, sensory, or mental health causes includes customization for each individual through assessments and one-on-one meetings. Vocational Rehabilitation services are available in all 88 Ohio counties and cover a wide range of services, including vocational training. To find the Opportunities for Ohioans with Disabilities (OOD) regional office closest to you, click here.
Our central location makes training accessible. We provide the Midwest and much of the East Coast with the opportunity for training.
PTS Puts Students First
Performance Training Solutions is one of the top heavy equipment training schools in the US and operates with one goal: to help students build their careers with credentialed, certified, and professional training. Our team of experienced trainers, admissions representatives, and career coaches is dedicated to the success of the diverse range of students we serve — including veterans, disabled persons, the recently unemployed, and new high school graduates.
PTS offers a pair of three-week, 120-hour courses that provide the fundamental knowledge and skills necessary to obtain entry-level employment as an NCCER-credentialed heavy equipment operator. The training, once complete, will open up potential employment across a wide variety of industries, from construction and road-building to mining, forestry, agriculture, and more. We're willing to work with students to help them unlock benefits to offset the cost of training, our graduates have a nearly 90% job placement rate, and we continue to offer ongoing assistance after course completion.
Connect with PTS today to learn more about Ohio job training assistance programs. Schedule a free tour of our facility for a $500 tuition discount.