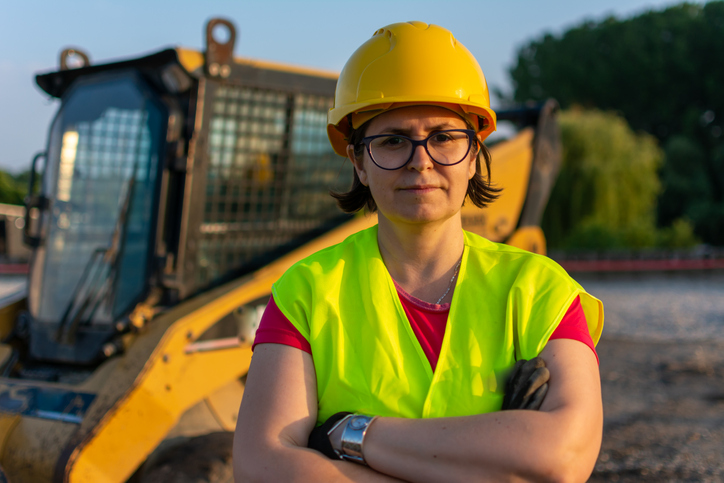 Traditionally, the construction industry — and related fields such as mining, forestry, agriculture, etc. — have been heavily gender-segregated. The number of women in construction jobs, for example, represents a small percentage compared to their male counterparts. Nevertheless, if you keep aside the stereotype, women have an untapped potential to excel in the construction field and bring more value to it in their own ways.
Women's involvement in construction work has typically varied between 9% and 13% and remained relatively constant over time. This makes for a starkly unequal gender ratio in the construction industry. According to recent data from the U.S. Bureau of Labor Statistics, women make up 11% of the workforce involved in the construction industry. This number rises to 15.4% in mining, quarrying, and oil and gas extraction.
The numbers are more slanted when considering front-line workers in these fields. While women are employed abundantly in front office roles, managing IT, or in managerial support, it's estimated that women only fill 2.3% of the tradespeople roles on a typical job site. For heavy equipment operators, one estimate puts that number at just 6%. This makes us mull over what keeps women from such rewarding career paths.
Land of Opportunity! Intel construction projects in Central Ohio need skilled workers and PTS can help. Learn more.
Reasons for the Gap and Pressure to Fill It
There are several factors that explain this enormous gender gap, including unconscious gender bias, a lack of adequate training, and negative perceptions of women working in construction. Despite these barriers, some women continue to build their path in the industry, and more are needed.
Providing more pathways to women's participation in construction industries is urgent, especially in light of the labor shortages that dominated headlines in 2022. The distance between job positions open today, those set to be created in the years ahead, and the number of qualified people to fill them is massive. Thus, we cannot afford to practice gender discrimination in such a situation.
New construction industry jobs were expected to balloon by almost 2 million in 2022, and companies are looking to recruit more women than ever before to bring their skills into the field. Helping women carve out a niche in construction and heavy equipment operation can be accomplished with improved training and support programs.
Women in Construction Jobs Bring Specific Strengths
As heavy equipment operators, women have always been recognized as having easily identifiable strengths.
Learning ability: As more rule-abiding and keen to learn, women can show greater learning ability than men.
Consistency: When enrolling in a training program, women are more likely to show up for classes regularly than men.
Attention to detail: Women tend to have an eye for detail, greater than their male counterparts, who often slip up on their overconfidence.
Attitude and Employability: Women are hard working regarding their jobs. In a man's field where they are offered lesser pay and credit, they strive to outshine men by keeping a diligent attitude towards their work.
Additional training programs and support and help place more women in construction jobs, such as heavy equipment operators. The National Association of Women in Construction and its annual conference, provide mentorship, marketing, and networking opportunities to help women new to the construction and/or heavy equipment operation industries.
Changing career paths? Learn how PTS and our heavy equipment operator training programs can help you quickly shift gears.
PTS Training is Perfect for Women in Construction Jobs
PTS is a heavy equipment and mobile crane operator school located outside of Columbus, Ohio. For more than a decade PTS has provided standardized training programs to help the construction and energy development industries fill their need for qualified, in-demand, heavy equipment operators.
Our combination of small class sizes, classroom instruction, and in-the-seat field exercises prepare our students for excellent entry-level employment opportunities. We're proud of our 90% job placement rate, and provide training to businesses and individuals, including veterans, recent high school graduates, the recently unemployed, and those with disabilities.
PTS offers a series of three-week, 120-hour courses that provide the fundamental knowledge and skills necessary to obtain entry-level employment as an NCCER credentialed operator or NCCCO certified crane operator.
Heavy Equipment Operator 1 is an entry-level course and covers the knowledge and skills required to obtain employment as a skid steer, wheel loader, compactor, backhoe, or articulated off-road dump truck operator.
Heavy Equipment Operator 2 follows up on that initial training and opens the door to employment as an operator for bulldozers, scrapers, excavators, and motor graders.
Mobile Crane Operations covers both Mobile Hydraulic Telescopic Boom Swing-Cab and Telescopic Boom Fixed-Cab cranes.
Connect with PTS today to learn more about how we help put more women in construction jobs. Schedule a free tour of our facility for a $500 tuition discount.