Options abound for military personnel to use potential benefits for career-starting vocational education.
There are many funding programs available to veterans for heavy equipment training that help those who have served our country quickly transition into a profession following their service. Learning to operate heavy equipment doesn't lead to a job for veterans; It opens the door to a second career for those looking to integrate back into society outside of their military branch.
Heavy equipment operator training offers many proven benefits for veterans and makes an ideal path for many seeking a new working profession.
Lining up vocational training also aids veterans in transitional planning as a whole. With a focused path forward those leaving the military will have a path to follow and a way to develop needed skills for the next stage of their life, such as forging social and language skills, developing new contacts within the chosen industry, building a network of people you can rely on to navigate your next steps.
If bulldozers and excavators aren't your thing, many of the same benefits from learning to operate heavy equipment apply to becoming a certified crane operator. With even stronger starting salaries and more variety, learning to run a crane is another rewarding path forward for veterans.
Best of all for post-military personnel is the many funding programs available to veterans for heavy equipment training. Let's examine some of them further.
Ready to take the next step? Schedule a free tour of our training facility and earn a tuition reduction in the process.
Multiple Funding Programs Available to Veterans for Heavy Equipment Training
As part of the process of serving our country, veterans earned the right to access benefit programs that can be used to develop their professional prospects after leaving their branch of service. Every veteran is encouraged to think about their transition near the end of their service and should ask about VA benefits, which can include healthcare and home loans as well as education and job training benefits. Veterans should also enroll in their military branch's transition assistance program to help boost interview and resume skills and aid in job searches.
For heavy equipment operator training, here are some specific programs that can help pay for the instruction you need.
Post-9/11 GI Bill® (Chapter 33)
The GI Bill provides benefits and living expenses directly to the veteran while they're in school and can last for up to 36 months. If your service ended on or after January 1, 2013, your benefits won't ever expire thanks to a law called the Forever GI Bill — Harry W. Colmery Veterans Educational Assistance Act.
Benefits include the full cost of public, in-state tuition and fees, money for housing (if you're in school more than half-time), and additional funds for books and supplies. You can even receive money to help move from a rural location closer to your educational institution.
Veteran Readiness and Employment (VR&E) Program (Chapter 31)
The VR&E program is available to veterans who have a service-connected disability that limits their ability to work or prevents them from pursuing employment opportunities. It's also available to family members of service members and veterans with disabilities. The benefits include similar educational assistance as the GI Bill but are more dependent on the specific circumstances of the individual applying to the program.
Other Potential Options
Military Reserves and members of the National Guard may also access benefits that could help them pay for educational training. Guard and Reserve members may be eligible for both GI Bill and VR&E programs and should inquire about their eligibility.
As a certified Military Friendly® School for 2021-22, PTS will do everything it can to help eligible veterans access and utilize these programs. PTS has served veterans from all branches of military service and is committed to continuing to support veterans as they return to civilian life.
Ready to grow with heavy equipment operator training? Plan for your future with the right course.
Take Advantage of Funding Programs Available to Veterans for Heavy Equipment Training with PTS
Performance Training Solutions offers a pair of three-week, 120-hour courses that provide the fundamental knowledge and skills necessary to obtain entry-level employment as an NCCER credentialed operator.
Heavy Equipment Operator 1 is an entry-level course and covers the knowledge and skills required to obtain employment as a skid steer, wheel loader, compactor, backhoe, or articulated off-road dump truck operator.
Heavy Equipment Operator 2 follows up on that initial training and opens the door to employment as an operator for bulldozers, scrapers, excavators, and motor graders.
With new classes rolling out every month there are always seats available or open slots close on the horizon. With the rapid deployment of the training, you'll be able to complete your educational requirements and get to work earning a strong salary sooner than if you pursued a traditional two- or four-year program at a college or university — and pay far less as well.
The core of the curriculum will take place in the seat on the machinery. Practical in-the-seat training will make up more than half of your total training time as you apply classroom information in the field. All staff members are also subject to Continuing Education Requirements as set forth by the Ohio Board of Career Colleges and Schools.
Contact PTS today to begin taking advantage of funding programs available to veterans for heavy equipment training. You can schedule a free tour for a tuition discount, or sign up for a spot in the next course offering.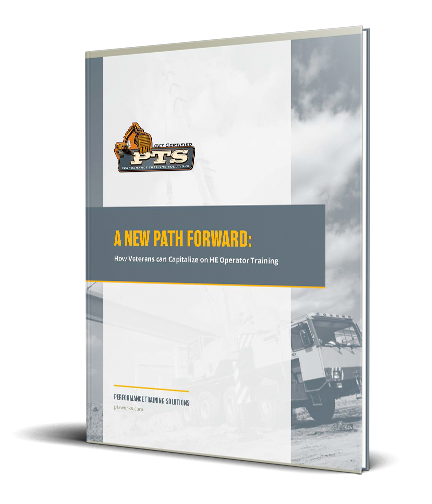 YOU'VE SERVED YOUR COUNTRY — WHAT'S NEXT?
In our free, no-strings-attached ebook — A New Path Forward — examine the positive aspects of heavy equipment operator training for veterans and why Performance Training Solutions is the right choice to empower you in a new career.