A new year means it's the perfect time to examine new career opportunities.
Learning how to become a crane operator is one way to carve out a new career path in a desirable, consistent, and well-paying field. After two full years of dealing with the ebbs and flows of the pandemic, now is the time to take more control over your employment future. Becoming a certified crane operator will give you the flexibility to choose from a variety of jobs in several different industries, the comfort in knowing demand will be there for your services, and the security that comes from strong salaries across the board.
Let's start with the salary considerations. Crane operators remain, on average, among the best paid in the entire heavy equipment operator family of occupations. Data collected throughout 2020 by the U.S. Bureau of Labor Statistics indicated the average (or mean) hourly wage for crane operators was at $30.27/hour in 2020. The median yearly earning for crane operators was more than $59,000. The numbers are strong for those on either side of the experience gap as well, with highly experienced crane operators — those in the 20% of earners in the field — approaching $100,000 or more in a given year. The entry-level compensation still offers a strong initial earning capacity ($30-40K).
How much crane operators make is a strong reason to consider training and certification, but it's far from the only one. For example, the demand level is already high and expected to gain momentum as more focus is turned to infrastructure projects across the country. The ability to quickly acquire the necessary training has strong appeal. Finally, like heavy equipment, cranes come in a variety of shapes and sizes; you can specialize in different types of cranes to address different tasks and jobs. There will always be room to grow and add to your skillset.
Are you a veteran looking for a new career path? Post-military crane operator training is a potential solution.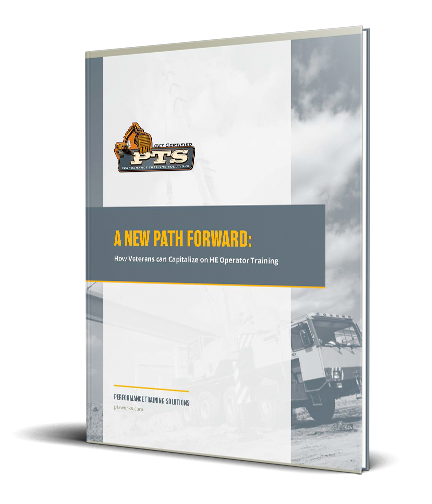 YOU'VE SERVED YOUR COUNTRY — WHAT'S NEXT?
In our free, no-strings-attached ebook — A New Path Forward — examine the positive aspects of heavy equipment operator training for veterans and why Performance Training Solutions is the right choice to empower you in a new career.
Here's How to Become a Crane Operator
The process begins with identifying if you meet the basic and physical requirements to operate heavy equipment — and specifically a crane. The basic requirements include being at least 18 years of age, and the willingness to follow and abide by the National Commission for the Certification of Crane Operators (NCCO) Substance Abuse Policy and Code of Ethics. A high school diploma or GED is required by many training and certification programs as well.
There are physical requirements, as outlined by the American Society of Mechanical Engineers (ASME), to reach as well. These include (but are not limited to):
At least 20/30 vision in one eye and 20/50 in the other (with or without corrective lenses)
Normal depth perception and field of vision
Ability to distinguish colors
Adequate hearing (with or without aid)
Sufficient strength, coordination, and reaction time to meet operational demands
No evidence of seizures or loss of physical control
If those basics are met, the next step is to locate an NCCCO accredited training program to receive the proper instruction. Regulations, set by the Occupational Safety and Health Administration (OSHA), state that any individual seeking to operate a crane that weighs 2,000 pounds or more must first be certified by an accredited crane operator testing organization, or qualified through an audited employer program. For most, this means working through the NCCCO, or an NCCCO accredited program to get ready for the certification exams.
Once the training program is complete, applicants then must pass both a written and practical exam to receive their complete certification. The written crane certification test will feature a Core section that will ask you to display general knowledge about crane operations. Also included will be up to four crane specialty (load chart) examinations. To complete certification, you will need to pass both the Core section and at least one specialty component.
In the practical section, operators will be asked to show their proficiency in Telescopic Boom Cranes — in either a Swing Cab (TLL) or Fixed Cab (TSS) set up. In this part of the exam, operators will need to complete six tasks that progressively increase in the skill needed to finish them, including equipment inspection, hoisting, booming, swinging, following hand signals, and combination (or multifunctional) operations.
Once you've passed both parts of the certification exam, you completed the process for how to become a crane operator and can now begin applying your new skills in the workforce.
Ready to grow with heavy equipment operator training? Plan with the right course.
PTS Helps You Achieve Certification
Performance Training Solutions offers a quick — three-week, 120-hour — program that provides you with the fundamental knowledge and skills necessary to obtain entry-level employment as an NCCCO certified crane operator. Our mobile crane operator school program includes both the Mobile Hydraulic Telescopic Boom Swing-Cab and Telescopic Boom Fixed-Cab cranes.
Featuring a mixture of classroom and in-the-seat instruction, students will learn the basic principles of cranes, crane safety, an orientation to the trade, operating a crane, preventative maintenance, wire, rope, and basic rigging practices. Small class sizes are designed to provide more one-on-one time with our instructors and examiners.
NCCCO Crane operator certification requires you to take and pass both written and practical competency examinations at the conclusion of the training program. Once you have passed all the required exams, you will receive a five-year Mobile Crane Operator Certification from the NCCCO National Commission for the Certification of Crane Operators.
Connect with our admissions team today to learn more about how we can help you learn how to become a crane operator. With a free tour of our Columbus, Ohio facility, you'll be eligible to earn a $500 tuition reduction scholarship.