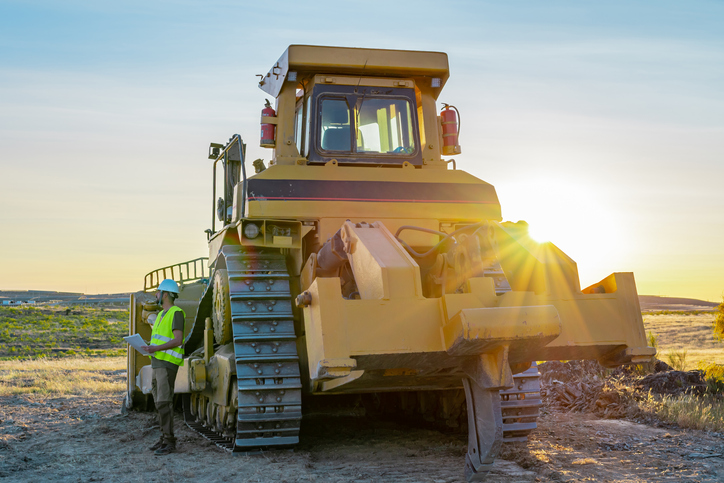 Explore the machinery you can expect to use on the job site as a heavy equipment operator.
From lifting to pushing to digging, heavy equipment types all have one thing in common; they require skill to operate and make any job easier.
It's crucial to use specialized types of heavy equipment geared toward the earthmoving and construction project at hand. The selection of heavy equipment types used for a particular project depends on the size and nature of the project. From construction and road-building to forestry, agriculture, and mining, being able to operate the right heavy equipment for the job is essential in many critical industries that keep the country running.
At Performance Training Solutions, we train and educate individuals so they can safely and efficiently operate heavy equipment on the job site. In turn, this training opens up new career paths and better opportunities for those who take this step.
Heavy equipment operators enjoy many benefits from their chosen field, including the ability to choose to specialize in several heavy equipment types, industries, or specific tasks or jobs. Operators also enter into a stable, consistently-growing field that provides ongoing opportunities. You can work with large crews as part of construction or road-building teams, reap the benefits of individualized work in mining, or even become self-employed.
As for another essential question — how much do heavy equipment operators make? — the answer is also encouraging. Across all heavy equipment types and experience levels, according to 2021 data, heavy equipment operators will access a median salary of $65,657. Approximately 50 percent of all heavy equipment jobs will have an annual salary ranging from $54,889 to $74,493. A great career opportunity for veterans, recent high school graduates, disabled workers, or unemployed career searchers, heavy equipment operating has numerous expanding avenues for growth and earning potential.
But heavy equipment types range across a wide spectrum. Used to drill, pave, compact, lift, drill, dig, and much more, heavy equipment comes in many varieties with different machinery makeups, tools, areas of focus, and strengths. Here we'll examine several types of heavy machinery — what they include and what they do — all of which you can learn to operate at Performance Training Solutions.
Ready to grow with heavy equipment operator training? Plan with the right course.
Excavators Remain the Gold Standard
Featuring one of the oldest designs for heavy equipment, the excavator remains one of the most popular types of heavy equipment today. By seeking training through an excavator training school, you'll get the training necessary to operate the most common piece of heavy equipment currently used at work sites — according to heavy equipment manufacturers.
Regarded still as the gold standard among heavy equipment types, today's modern hydraulic excavators offer power, efficiency, and versatility undreamed of when the machinery first became prevalent in construction, earth-moving, and road (and railway) building more than a century ago. Steam-powered versions of the machinery — also known as steam shovels — were the earliest versions of the model, and were prolific in the late 19th and early 20th centuries in the construction of the Panama Canal and the railroads that criss-cross the United States.
All excavators have the same basic makeup of parts. The most distinctive part of the machine is the multiple-articulated 'arm,' which is divided into a 'boom' that is connected to the vehicle through a 'king-post' that allows it to pivot both left and right — usually up to 180 or 220 degrees. The second part of the arm is the 'the dipper,' which holds and manipulates the 'bucket.' Every component of the arm runs to the cab, which is attached to a platform atop an undercarriage of tracks or wheels. Combined, the cab and platform are referred to as the 'house.'
The persistent popularity of the excavator is tied to the versatility — through the use of attachments — provided by bucket replacement options. Options like saws, claws, and breakers, or drills, pile drivers, and snow blowers, give this type of heavy equipment the capability to tackle most jobs. You'll see excavators digging through the earth, demolishing old buildings, grinding down trees, mining, cutting asphalt, and more.
Are you a veteran seeking a new path? Learn how investing in post-military crane operator training can aid your transition.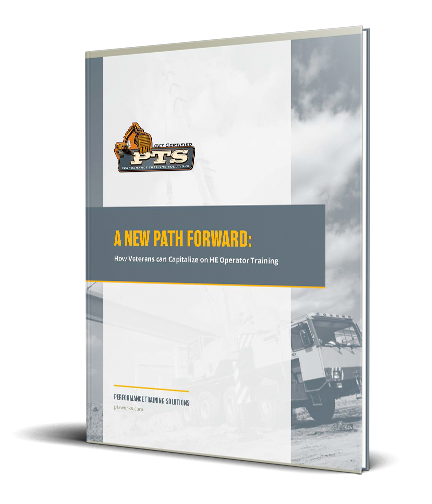 YOU'VE SERVED YOUR COUNTRY — WHAT'S NEXT?
In our free, no-strings-attached ebook — A New Path Forward — examine the positive aspects of heavy equipment operator training for veterans and why Performance Training Solutions is the right choice to empower you in a new career.
Backhoes Bring Versatility to the Job Site
With instruction from a backhoe training school, you'll learn to support a variety of construction projects with this adaptable machinery that stands out among heavy equipment types. Part excavator, part loader, and always useful, the backhoe is an essential part of construction sites big and small. Considered the Swiss army knife of heavy equipment, the backhoe (or backhoe loader) is optimal for excavation and digging projects of all sizes.
Backhoes are common and can be seen being used by independent farmers or large construction organizations. They're used to tackle a wide variety of tasks on a job site including small-scale demolitions, light transportation of building materials, powering building equipment, digging holes, landscaping, breaking up asphalt, and many more.
Backhoes are often composed of a standard tractor base (wheeled) that supports a digging bucket on the end of a jointed, two-part arm. The opposite end of the backhoe will often have a front loader (or similar) attachment. The operator cab features a seat that can swivel to allow the operator to face whichever side is being used at the time. While the bucket is synonymous with a backhoe, it can be replaced with a variety of attachments designed for specific purposes such as drills, hammers, rippers, breakers, and more. Likewise, the front loader can also be swapped out for different attachments, like a plow or a forklift, to fulfill distinct tasks.
In many aspects, the backhoe serves as a smaller version of the excavator, but gains added agility and versatility in place of the larger machinery's greater size and increased power. The principal difference between the two machines is size; excavators are better suited for large-scale jobs because of this, while the backhoe is a better fit for farming tasks, simple loading jobs, and small-to-medium scale construction projects. The backhoe's versatility is enhanced by a larger assortment of attachment options and the fact it — unlike most excavators — can be driven on roads which makes them the better choice on spread out (but connected) worksites. Lastly, the excavator can rotate its entire chassis and arm together in a 360-degree circle; the backhoe's arm only pivots across a range of about 200 degrees over the back of the chassis.
What about cranes? Learn how PTS can help you tackle NCCCO crane operator certification with a variety of solutions.
Bulldozers: Tracks, Blades, and Power
When you enroll in a bulldozer training school you'll learn to operate a chief piece of heavy equipment. The bulldozer has long been a staple in construction, mining, road building, and many other industries.
The bulldozer is defined by its tracks — the threaded belts or chains along the right and left sides of the vehicle — and the blades attached to the front of the machinery. The tracks provide excellent ground-holding capability and mobility through rough terrain. When you don't have a road, you use a bulldozer to make one.
Bulldozers trade precision and delicate manipulation of materials for blunt, raw power. The tools implemented on the machinery reflect this reality. The most common component for every bulldozer is the massive blade affixed to the front of the machine. This moves the earth or other debris, pushes rubble, and levels the ground for roads and fields.
The blades used by bulldozers are generally classified into one of three types:
The straight blade (S-blade) is the shortest (top to bottom) and does have side wings. It's used for stripping, ditching, and fine grading work.
The universal blade (U-blade) is the most common blade type and has a curved shape with large side wings.
The semi-universal blade (S-U blade) is more narrow and only slightly curved with moderately-sized side wings. Its ideal tasks include backfilling, crowning, and moving large rocks.
Bulldozers remain a vital part of many industries and with the required training to operate them you'll. open up many opportunities for employment. You'll see their use in road-building projects, construction operations, at mining quarry sites, performing in forestry operations, general land clearing, and in any other project that requires a highly mobile, powerful, and stable piece of earth-moving equipment.
Want to know more about PTS course offerings? Get the information you need here.
Operate Heavy Equipment Types of All Sorts with PTS
For more than a decade, Performance Training Solutions has provided heavy equipment and mobile crane operator training from our facility located in Columbus, Ohio. As one of the top training schools in the country, we assist those who wish to pursue a career in the industry. Our team of experienced trainers, examiners, and career representatives are committed to helping our students not only get the certifications they need but apply them and succeed.
With the combination of small class sizes for hands-on learners, classroom activities followed by in-the-seat field exercises, PTS students are well prepared and positioned for excellent entry-level employment opportunities. Our average 90% placement rate is a testament to this fact.
PTS provides accessible training to get you up to speed for a new career in short order. We offer two, three-week, 120-hour courses in heavy equipment operations where you'll learn how to operate many heavy equipment types. Depending on the machinery, you may complete both courses to become fully credentialed. For instance, you'll only need the first course to be credentialed to operate a wheel loader, but you'll need both for credentials for motor grader operation.
Heavy Equipment Operator 1 is our entry-level course and covers the knowledge and skills required to obtain employment as a skid steer, wheel loader, compactor, backhoe, or articulated off-road dump truck operator.
Heavy Equipment Operator 2 follows up on the initial training and opens the door to credentials as an operator for bulldozers, scrapers, excavators, and motor graders.
Connect with our admissions team today to learn more about how we can help you explore careers with many different heavy equipment types. With a free tour of our Columbus, Ohio facility, you'll be eligible to earn a $500 tuition reduction scholarship.