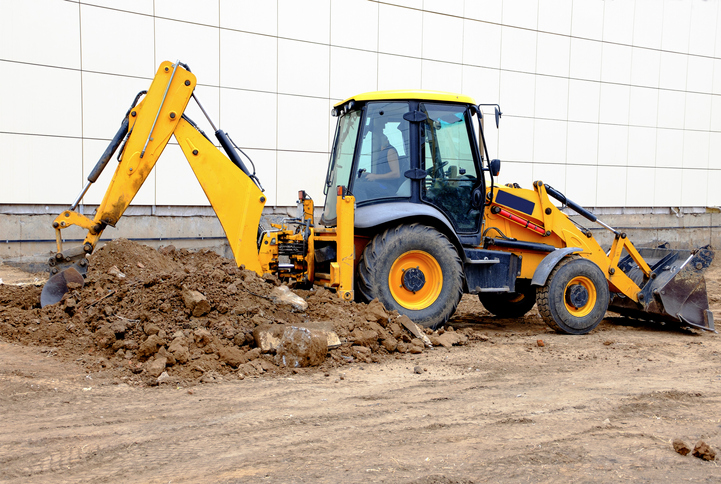 Part excavator, part loader, and always useful, the backhoe is an essential part of construction projects big and small.
The decision to attend a backhoe training school is one that can open up paths to a rewarding new career quickly and is one that will give you the skills needed to operate one of the most versatile pieces of heavy equipment.
Considered the Swiss army knife of heavy equipment, the backhoe (or backhoe loader) is optimal for excavation and digging projects of all sizes. Backhoes are common and can be seen being used by independent farmers or small-town city maintenance crews, and by large road-building or construction organizations. They're used to tackle a wide variety of tasks on a job site including small-scale demolitions, light transportation of building materials, powering building equipment, digging holes, landscaping, breaking up asphalt, and many more. It's this versatility that sets it apart from other heavy equipment types.
Let's learn more about this workhorse of the construction site and how you can rapidly acquire the needed knowledge and certification to become an operator.
More of a Bulldozer type? Learn all about these powerful construction and demolition tools on our blog.
Everything You Need to Know About Backhoes
The term 'backhoe' refers to how the bucket is moved, not its location on the vehicle. That means that the backhoe digs by drawing the earth back toward the machine itself, rather than lifting it with a forward motion — like a person shoveling or if using a bulldozer for instance.
Most backhoes feature a tractor-like vehicle with the backhoe component at the rear and the implementation of a front loader on the other end. A swiveling seat positions the operator in whichever direction is needed at the time. In North America, this machine is simply referred to as a backhoe or backhoe loader. If the chassis is a farm tractor, it is sometimes referred to as a tractor-loader backhoe. The farm variations are typically not suitable for heavy work.
The backhoe swing frame was invented in 1947 by Vaino Holopainen and Roy E. Handy Jr. The swing frame allowed the hydraulic digging arm to swing side to the side to dump the bucket. In April 1948, the Wain-Roy Corporation sold the first hydraulic backhoe, mounted to a Ford Model 8N tractor, to the Connecticut Light and Power Company for $705.
The first tractor-loader backhoe was made by Wain-Roy in 1952 for use by the Holden (Mass.) Water Department. By early 1954 two Hough 'Payloader' model wheel loaders were available with Wain-Roy backhoes. That same year, JCB launched the first European hydraulic loader followed by a backhoe with a 180-degree slew fitted to a tractor. JCB was the first to introduce a dedicated backhoe loader, incorporating the excavator element and the major loader into a single, all-purpose tool.
Essential Parts and Makeup
Backhoes are often composed of a standard tractor base (wheeled) that supports a digging bucket on the end of a jointed, two-part arm. As mentioned earlier, the opposite end of the backhoe will often have a front loader (or similar) attachment. The operator cab features a seat that can swivel to allow the operator to face whichever side is being used at the time.
The part of the backhoe arm that's attached to the base vehicle or tractor is called the boom, and the segment that holds the digger bucket is called the dipper or the dipper-stick. The pivot that connects the boom and the dipper is known as the king-post. While the bucket is synonymous with a backhoe, it can be replaced with a variety of attachments designed for specific purposes such as drills, hammers, rippers, breakers, and more. Likewise, the front loader can also be swapped out for different attachments to fulfill different tasks, like a plow or a forklift.
Isn't This an Excavator?
The backhoe is similar to the larger, more singularly-focused excavator, but trades in size and raw power for agility and versatility. The primary differences between a backhoe and an excavator can be identified according to three categories.
Size — The principal difference between the two pieces of heavy equipment is size. Excavators are larger and heavier, which makes them a better fit for jobs like large-scale demolition projects, mining, big industrial projects, driving piles, and drilling shafts. The backhoe, meanwhile, is more adept at small to medium-scale construction projects, farming tasks, and loading jobs.
Versatility — Though both machines have a good selection of attachment options, the array is larger and more diverse for the backhoe. Backhoes, unlike most excavators, can also be driven on roads which makes them the better choice on spread out (but connected) worksites.
Rotation — Lastly, the two machines have different rotation angles that can make them different machines from an operator's standpoint. The excavator, given the dedicated purpose of the machine, can rotate the entire chassis and arm together in a complete 360-degree circle. The backhoe's arm only pivots across a range of about 200 degrees over the 'back' end of the chassis.
Need to go bigger, dig deeper? Take a deep dive on the excavator and learn more about how to quickly learn to operate one.
PTS is the Backhoe Training School You Need
For more than a decade, Performance Training Solutions has provided heavy equipment and mobile crane operator training from our facility located in Columbus, Ohio. As one of the top training schools in the country, we assist those who wish to pursue a career in the industry, and our team of experienced trainers, examiners, and admissions and career representatives are committed to helping our students succeed.
With the combination of small class sizes for hands-on learners, classroom activities followed by in-the-seat field exercises, PTS students are well prepared and positioned for good entry-level employment opportunities. Our average 90% placement rate is a testament to this fact.
Heavy equipment operators still command family-supporting salaries. Across all experience levels and types of equipment, data from 2021 indicates that roughly half of all heavy equipment jobs will have an annual salary ranging from $54,000 to $74,000.
PTS provides accessible training to get you set up for a new career quickly. We offer two, three-week, 120-hour courses in heavy equipment operations. To be credentialed for backhoe operation, you'll need to complete only the first course.
Heavy Equipment Operator 1 is an entry-level course and covers the knowledge and skills required to obtain employment as a skid steer, wheel loader, compactor, backhoe, or articulated off-road dump truck operator.
Heavy Equipment Operator 2 follows up on that initial training and opens the door to employment as an operator for bulldozers, scrapers, excavators, and motor graders.
With PTS you can learn to operate a backhoe or any of up to 10 pieces of heavy equipment. You'll acquire the skills needed to further your job opportunities and prospects.
Connect with our admissions team today to get a free tour of our Columbus, Ohio facility. Complete the tour and earn a $500 Tuition Reduction Scholarship.