By enrolling in an excavator training school, you'll learn how to operate, guide, and work with a piece of heavy machinery that is regarded as the gold standard for construction equipment.
Today's modern hydraulic excavators offer power, efficiency, and versatility undreamed of when the piece of heavy equipment first became prevalent in construction, earth-moving, and road (and railway) building more than a century ago. Steam-powered versions of the machinery — also known as steam shovels — were the earliest versions of the machinery, and were prolific in the late 19th and early 20th centuries in the construction of the Panama Canal and the railroads that criss-cross the United States.
The earliest hydraulic excavators were first developed in the 1880s, and the first all-hydraulic device was unveiled in 1897. And ever since, the excavator has been essential whenever and wherever dirt needed to be moved, a boulder needed to be repositioned, or a ditch needed to be dug. The first of many heavy equipment types, the excavator has remained an essential piece of machinery for more than 100 years.
Excavators, as evidenced by The Ever Given situation in the Suez Canal this spring, remain as indispensable as ever.
Were you impacted by the Pipeline XL shutdown? Learn how PTS can help here.
Familiar Parts, Uncommon Versatility
Despite a myriad of subtle differences, all excavators have the same basic makeup of parts. The most distinctive part of the machine is the multiple-articulated 'arm,' which is divided into a 'boom' that is connected to the vehicle through a 'king-post' that allows it to pivot both left and right — usually up to 180 or 220 degrees. The second part of the arm is the 'the dipper,' which holds and manipulates the 'bucket.' Every component of the arm runs to the cab, which is attached to a platform atop an undercarriage of tracks or wheels. Combined, the cab and platform are referred to as the 'house.'
Despite being one of the oldest designs for heavy equipment, the excavator remains one of the most popular. Today the excavator is rated as the most common piece of heavy equipment used at work sites according to heavy equipment manufacturers.
That popularity is undoubtedly tied to the versatility of the machinery. A huge assortment of attachments and bucket replacement options — from saws, claws, and breakers to more specialized accessories like pile drivers, drills, and snow blowers — give excavators the capability to tackle nearly any job. You'll commonly see excavators digging through earth, handling materials, demolishing old buildings, placing large pipes, mining, cutting asphalt, or grinding down trees.
Are you more partial to cranes? Learn about our Mobile crane operator course here.
Excavator Training School Opens Door to Opportunity
Like most heavy equipment operator jobs and careers, the demand for excavator operators is projected to remain steady for the next decade. The U.S Bureau of Labor Statistics projects more than 19,000 such jobs will be added through 2029, and the annual 4% job growth rate is on par with most industries and career paths.
Salaries for operators specializing in excavators remain robust and strong enough to offer stability and support for you and your family even at relatively low experience levels. Average annual salaries for excavator operators rest between $43,000 and $55,000 according to data through April 2021.
Acquiring credentials for the operation of excavators can be completed in as little as six weeks — through a pair of three-week courses — at Performance Training Solutions. This offers a quick pivot-point for those looking to change careers, had previous opportunities ended due to the ongoing pandemic, or are just re-entering the workforce for a variety of reasons.
With few prerequisites needed, typically a high school diploma or equivalent is satisfactory, excavator training school offers a chance to quickly switch gears in your career while still offering consistent, and rewarding job prospects.
Looking for what's next as a veteran? Learn about the best post-military careers here.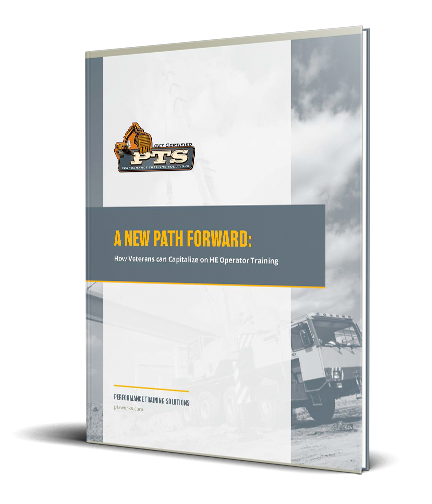 YOU'VE SERVED YOUR COUNTRY — WHAT'S NEXT?
In our free, no-strings-attached ebook — A New Path Forward — examine the positive aspects of heavy equipment operator training for veterans and why Performance Training Solutions is the right choice to empower you in a new career.
PTS is Much More Than Excavators
Based just outside of Columbus, Ohio, Performance Training Solutions is the best heavy equipment operator training school in the Midwest. With a decade of experience, PTS offers accelerated training and education on up to 10 types of heavy construction equipment as well as mobile hydraulic cranes.
Our Heavy Equipment Operator 1 course is of the entry-level variety and serves up the knowledge necessary and skills needed to obtain employment as a skid steer, wheel loader, compactor, backhoe, or articulated off-road dump truck operator. Also included are an introduction to earthmoving, heavy equipment safety, and basic operational techniques.
Our Heavy Equipment Operator 2 course follows up the intro course, and can only be taken after completion of Operator 1. Completion of Course 2 will open up employment options for bulldozers, scrapers, motor graders, and excavators. Additional instruction will also cover finishing and grading, site work, excavation math, and the interpretation of civil drawings.
Both courses will utilize three-week, 120-hour windows, and more than half of that time will be spent in the seat operating real equipment — not simulators. With small class sizes, the classes are geared toward hands-on learners and designed to provide more one-on-one time with instructors and increased seat time. Practical training will constitute more than 70% of your overall training time, and the curriculum is built on applying information covered in the classroom to your time in the equipment. You'll put theories into practice.
Prepare to Excavate with PTS
If you've long thought about changing careers, or always had a desire to operate heavy equipment like the excavator, Performance Training Solutions has experienced instructors and career representatives to help you succeed in pursuing your goals.
Schedule a free tour of our training facilities for an in-person look at the atmosphere and equipment you'll be learning in. If you complete a tour, you'll become eligible for a $500 Tuition Reduction Scholarship to go toward your tuition costs.
Contact us today to begin preparing for a new and rewarding career as a heavy equipment operator.